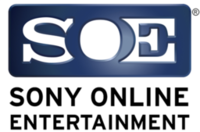 Based in San Diego, Sony Online Entertainment LLC (SOE) has an array of cutting-edge games in development across multiple platforms and genres.
SOE has developed and/or published a number of ground-breaking and genre-defining games, including Star Wars Galaxies.
SOE is a wholly-owned indirect subsidiary of the Sony Corporation.
External links
Ad blocker interference detected!
Wikia is a free-to-use site that makes money from advertising. We have a modified experience for viewers using ad blockers

Wikia is not accessible if you've made further modifications. Remove the custom ad blocker rule(s) and the page will load as expected.